These are not the usual tips on how to optimize your site's images (this WP Explorer guide is already great at doing that). Nope, we're digging a little deeper, trying to shine some light on the lesser discussed topics that can really have a great impact on generating revenue.
Images are important. Yes, you know that already, we get it. But how many?
In general, only 10% of information is remembered when you read something. Add an image and the recall increases to 65%. That's the power of an image.
Not convinced yet? Check these facts:
Articles with relevant images are 94% more read than pure text ones.
Nearly 2/3 of people say they are visual learners.
When we're talking about user-generated content (UGC), photos are the most appealing content form.
To have the desired impact, though, you need good quality images and know how to use them the right way. That's why we compiled this list of the 6 best hacks we've found so far.
1. Sharpen JPEGs
If you're selling products, you need good images of them, and that means they need to be sharp. By sharpening your images, details will come to life and the users will have a much clearer vision of your products.
To implement it, you need to install the Sharpen Resized Images plugin before uploading your images. It's that simple. The plugin is not updated in quite some time, but don't worry: it's still working properly up to this day!
2. Link images to categories
If you own an eCommerce, your customers have to be able to easily find what they are looking for. By creating a categories page with images in place of a traditional drop-down menu, you can improve the navigation and understanding of your products, thus encouraging more interested visitors to buy. By doing just that, Body Ecology showed a 56% increase in revenue.
You can add an image to a product's category by editing the category under the Products menu.
If you go to Appearance > Customize > WooCommerce > Product Catalog you can configure your shop page to display the categories instead of the products themselves.
It's also possible to display an image in the category page along with its description. Your WooCommerce theme may support it by default, but if it doesn't, it's simple to implement it.
3. Enhance your product images experience
The ability to see the details of a product by zooming in can be a game changer. Take for example the furniture market. According to Blueport's 2017 Omnichannel Furniture Benchmarking, retailers perceive the zoom as one of the most valued features to engaging shoppers and driving revenue.
Since version 3 WooCommerce implemented some nice image tricks for your products' page. By using them you will enhance how your customers experience your eCommerce and they will have a more detailed view of your products.
Hover zoom
Lightbox image gallery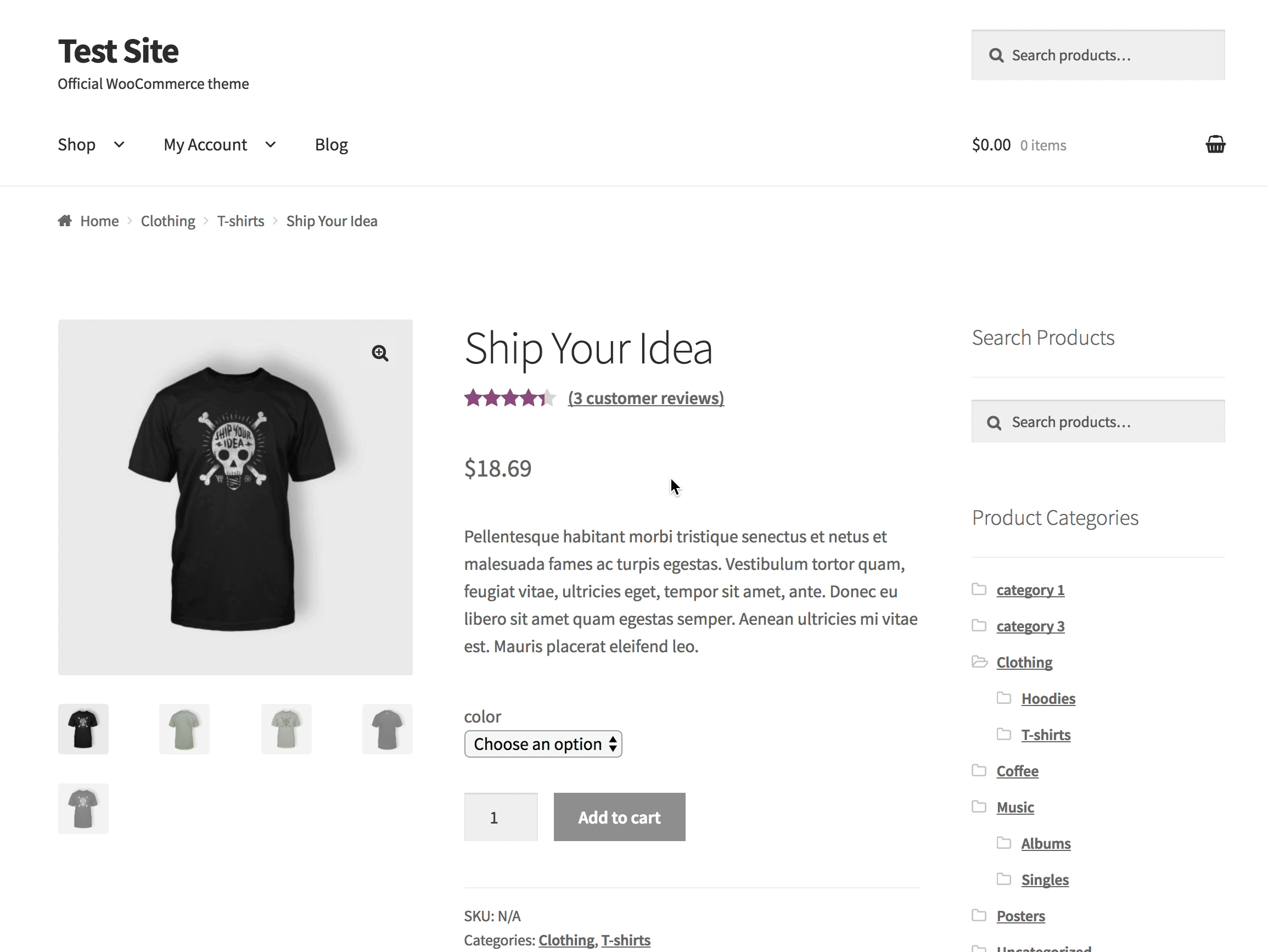 If you're using a WooCommerce theme these functionalities must be supported by default. If they're not you can follow these instructions to add support yourself.
4. Add OG protocol for social media images
Olapic's global report "Consumer trust: keeping it real" shows that 70% of consumers in the USA and 53% in Europe would be more inclined to purchase after seeing a positive or relatable UGC of the product. And what better place to share and see content if not in social media?
Social is not optional nowadays. People will share your site and your products in social networks, and you don't want your images to be blurred or just "wrong" when they appear in people's Facebook feed. There enters the Open Graph (OG) protocol.
The page's title, URL, description, and images are automatically pulled from your site when someone shares a link in a social network. So you want to make sure that they are getting the right information and images.
The easiest (and always up to date) way you can do that is by installing Yoast SEO plugin. It automatically fills all needed information based on your product or page, but you can improve it even more via the product's social configuration menu.
5. Boost SEO and accessibility by improving your images' data
Both search engines and search audience value visual pieces. If a business has images in the search results, 60% of consumers are more likely to contact or consider them. SEO crawlers know it too and prioritize visual-heavy content.
Search engines will know what the image is about by its filename, so be as descriptive as you can. Don't worry if you already have a lot of images on your site. You can rename them with the Media File Renamer plugin.
Alt text is a descriptive text used in place of images when these cannot be displayed because the user is using a screen reader or images are turned off. This is especially useful for accessibility.
Since images draw the user's attention more than the text itself, it's important to set the image's caption (the text that appears under the image). Captions get read four times more than body text.
For more information on image SEO you can read this awesome Yoast guide.
Most email clients block images by default in their email messages. It's not possible to overcome this blockage, but by setting up your images' alt text correctly, you can have something like this:
You can find more details as well as other tips in this great Litmus guide.
6. Give your images all the feels
Optimizing your images shouldn't be about enhancing mediocre pictures. You need to start by choosing good images so their optimization is minimal.
A good image is one that creates an emotional connection. In general, it should be clean, well-framed and well-lit. For an eCommerce, you should use still life photos of your products and also incorporate action shots of them being used. That could make your brand stand out as authentic in the eyes of the consumer, according to Olapic's report.
Take, for example, Timbuk2. They show their bags alone but also shot them on a person's back.
Another thing you can do is to encourage your customers to upload photos they take to create a sense of belonging, just like Amazon does. Olapic's report also shows that UGC is the most trusted type of content.
WooCommerce Product Reviews plugin helps your customers upload pictures and videos along a text review and star rating.
We hope these hacks are proven useful to you and help you boost your sales! Tell us in the comments if they were useful to you and if you have any favorite hacks of your own.

This article is a remaster of an old SAU/CAL post.