3 More of the Best Free WooCommerce themes
Today we're bringing you more of the best free WooCommerce themes available. We'd previously written about 5 awesome free WooCommerce themes, and we got requests for more. Why? Because finding good, free WooCommerce themes is hard. When we test free WooCommerce themes, we eliminate twice as many themes as we include.
So how do you pick a WooCommerce theme? If you're starting out with a new store, you'll probably be tempted to pick a theme based on what the homepage looks like in the demo, or how many crazy options or plugin the theme includes. However, this isn't the best thing to do for your store.
When you choose a WooCommerce theme, it's important to pay attention to the way the shop is styled and how the theme does so. Many free themes (and even some paid ones!) ignore WooCommerce pages and instead just use the default WooCommerce styling, which doesn't usually blend in with the rest of the site.
You'll also want to go to WooCommerce > System Status when the theme is active and scroll to the bottom. This will tell you if any templates are being overridden and if they're out of date. While overriding a couple of templates isn't a big deal, overriding more than a few templates or having out-of-date templates is a bad sign for future upgrades of WooCommerce while using this theme. At some point, it's likely that your theme will break with an update, and avoiding updates is not the solution to this problem – a better theme is.
If you're looking for an inexpensive theme to get your store launched, you don't have to sacrifice a shop that looks great with the rest of your site. Here are some free WooCommerce themes that style WooCommerce pages to blend in with your site in an upgrade-safe way.
---
Artificer – WooThemes
Artificer is developed by WooThemes, the parent company behind WooCommerce. Artificer is an older WooCommerce theme, but it's still updated and has a responsive layout. The homepage can display a static page or recent / featured products, and shop pages blend in with the theme styling.
You can check out the demo to test it out, or download it for free with an email signup.
Download Artificer
---
Bearded – Bonfire Lab
Bearded is developed by Bonfire Lab, and is available for download via GitHub. Bearded is a responsive theme that features a widgetized homepage that even has a couple of WooCommerce widgets available. You can view a live demo before giving it a try.
Shop and product pages are consistent with the rest of the theme:
However, there are a couple things to pay attention to. There are a handful of templates that are overridden, and one that's out of date, but this didn't cause any issues for me while using the theme. The shop page also displays 3 columns, but 10 products, which leaves an orphaned product in your last row. You can change this pretty easily with a bit of code or something like the WooCommerce Customizer.
Download Bearded
---
Barely Making the Cut:
Kidshop – YiThemes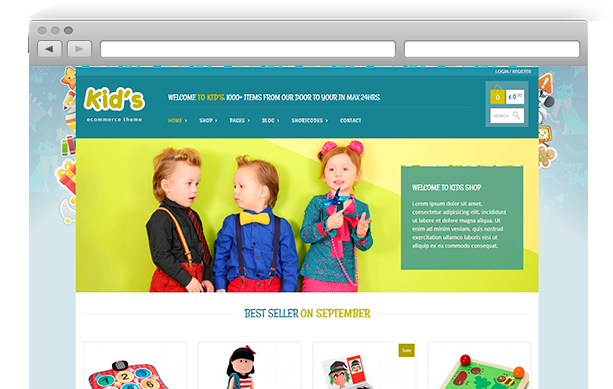 Kidshop is developed by YiTHemes, and provides a fun, whimsical theme that's great for toys, children's products, and more. You can check out a live demo of it in action if you want to get an idea of what it looks like.
The shop and product pages will blend in with the rest of your site:
However, there are a couple of things to be aware of with this theme, which is why it barely makes our cut. First, it overrides tons of WooCommerce templates and some are outdated. This means that the theme could break with future WooCommerce updates, and this also messes with a few styling options.
As you may notice in the shop screenshot, the products-per-row display is off. You'd have to fix this template to set the correct number of columns per page, as the filter you should be able to use to change this has no effect (meaning they've done something to this template). If you want to spend a little bit of time or money to patch it up, it could do a good job for your shop.
Download Kidshop
---
Cut from the team
Here are some of the themes we tried for this edition that didn't make the cut:
However, I've tried most of the "WooCommerce" themes in the WordPress.org repository and have had trouble finding usable WooCommerce themes.
---
Have free WooCommerce themes you like or want us to check out? Share them below! We're always looking for new ones 🙂 .